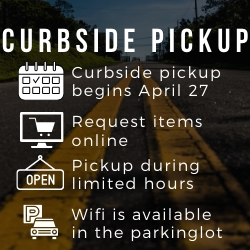 Explore the Digital Library
Free resources included with your library card!
Stuck at home?
Ebooks, audiobooks, educational games… Free resources for school age through teens. 
Libraries are for everyone.
2019 Public Library Annual Report Data
Spring Valley Public Library
E121 South 2nd St.
Spring Valley, WI
54767-0217
715-778-4590
FAX: 715-778-4595
Hours
Monday 10-7
Tuesday 10-7
Wednesday 10-7
Thursday 10-7
Friday 10-5
Saturday 10-1
Available Services
Public Computers
Fax: $1 for first page; 25¢ for pages after
Copy/Printing: 10¢ for b/wh; 25¢ for color
Scanning: Free of charge
Laminating (8 1/2 x 11 only): $1/sheet
Proctoring Services for Student Exams
Federal/State Tax Forms & Instructions: available in print or printed from online free of charge.