SPVPL Friends
Meetings are typically held at the Spring Valley Public Library on the 2nd Tuesday of every month.
The Friends of the Library is a non-profit group established to help the Library in its mission of service to the community through fundraising and volunteer efforts.
If you are interested in learning more about this library supporters group, please contact the Library for more information or email friendsofsvlibrary@svlibrary.org
Be a Friend
Please fill out this form and return or mail to the library. Please indicate membership level.
Make checks payable to: Friends of the SV Public Library, Inc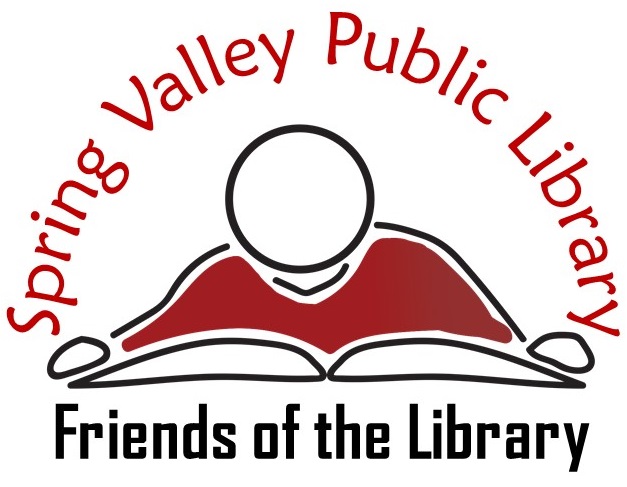 About the Friends
Friends of the Spring Valley Public Library, Inc.is a non-profit organization of community members who help support the library.
What We Do
Fundraise to support the Spring Valley Library's mission and future plans
Promote the value and missions of the library within the community
Encourage friends and family to utilize the library programs and services
Support the library board's strategic plans and policies
Fundraising proceeds are used for:
Purchasing library "wish list" items not included in the library's budget
Expanding library collections
Books, movies, audiobooks, videogames and more
Enhancing library projects and equipment
Supporting library services
Reading Programs
Youth & Family Events
Home Delivery Program
Music & Movies in the Park
Early Release Day Programs
Community Outreach Programs
and so much more!
Friends of the Library Board Members
President:  Emily Kovach – Erickson
Vice President: Marla Butler
Treasurer: Amy O'Keefe
Secretary: Andrea Wallin
Membership Level
renew your membership, gift a membership, or donate.
Active $50/yr
Contributor $100/yr
Advocate $250/yr
Sponsor $500/yr
Membership Benefits
Being a Friend of the Spring Valley Public Library includes lots of perks for you and/or your business!
Active Member
 Ability to run for election to the Friends of the
 Discounts on future FOL event attendance
Contributor
All benefits listed above
Name/Business listed on website
Annual social media recognition
Advocate
All benefits listed above
Business logo on website
Quarterly social media recognition
Name on Friends of the Library volunteer t-shirts
Sponsor
All benefits listed above
Logo on Friends of the Library volunteer t-shirts
Logo on Friends of the Library Event Banner
Displayed at FOL-sponsored events and Dam Days Parade
Hours
Monday: 9 AM -  6 PM
Tuesday: 9 AM -  6 PM
Wednesday: 9 AM -  6 PM
Thursday: 9 AM -  6 PM
Friday: 9 AM -  5 PM
Saturday & Sunday: Closed
Available Services
Public Computers
Fax: Free-will donation
Copy/Printing: Free-will donation
Scanning: Free of charge
Laminating (8 1/2 x 11 only): Free-will donation
Proctoring Services for Student Exams
Federal/State Tax Forms & Instructions: available in print or printed from online free of charge.